Optical surface protection film: MASTACK® TFB
Optical surface protection films are applicable to polarizing plates and various optical films.
High transparency and few defects enable visual inspection without peeling off the protection film, thus bettering process and improving efficiency.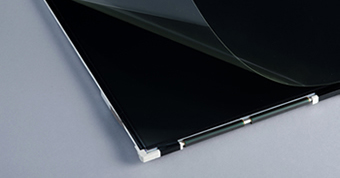 Feature
  Manufacturing under super-clean environment minimizes foreign matters. (Coating process: CLASS 100)
・ It has little pollution to items filmed and high transparency, enabling optical inspection without peeling off the protection film;
・ Its adhesive force keeps unchanged with time after it is adhered to the item filmed;
・ It boasts anti-static and anti-fouling features, and enables printing on the surface.

Application
・Polarizing plates, anti-reflection films and other optical films;
・Display protection films of displays assembled LCD modules;
・Protection films of mobile phones, tablet computers and other small-sized electronic products in processing.
Structure